Please note: Guided tours must be pre-ordered. In particular thematic special tours can not be offered at all times. For all special tours, the minimum number of participants is 15 persons. By arrangement and on special terms all special tours are also bookable outside the opening hours.
General guided tours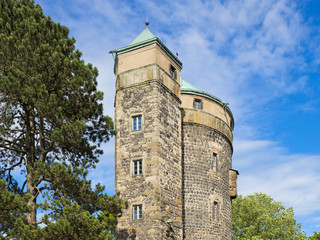 The castle administration offers guided tours, which give a general overview of nearly 800 years of castle history. When you enter the corridor, a. The torture chamber, visit the Amtskösser and learn more about the fateful life of Countess Cosel. A look at one of the deepest basalt-driven fountains on the earth is the end of the tour. Afterwards it is recommended to take some time for an individual return. The accompanying ascent of the Siebenspitzenturm is rewarded with a fantastic view over the Saxon country.
| | |
| --- | --- |
| Duration | 1 hour |
| Tour fee: Adult group: 40 € | |
| Scholars Group: 25 € | |
Evening guided tours
Outside the opening hours can be booked by prior arrangement an eventful walk through the headlights lit by the headlights Burganlage. The purpose of this tour is to see the castle "in a different light" and to have the special features of the evening mood. Visit the Stolpen at an hour, which is otherwise only reserved for the castle spirit!

The main attraction of this tour is the castle exterior, but also the main exhibitions of the museum exhibitions can be entered with the Marstall / torture chamber and Johannis (Cosel) tower.
| | |
| --- | --- |
| Duration | 1 Stunde |
| Tour fee | Groups up to 29 persons: 200 € |
| | from 30 persons each visitor: 7 € |
Special guided tours
»Countess Cosel has the honor«
The Commander of the Fortress, Major von Wehlen, had to receive Countess Cosel at Stolpen Castle on Christmas Eve 1716. The Commander who accompanied Cosel's life for many years and experienced her in close-up in many situations of her new circumstances, can tell a lot of stories, and especially about how difficult she was to handle in everyday life. He also knows the history of the town very well, which was ruled for 340 years by Meissen bishops and converted by Elector Augustus the Strong into a palace. Today, Stolpen, too, is a natural monument. The Commander's aura is yet highlighted by his uniform and, contrary to earlier when he was obliged to maintain secrecy, he has become quite talkative. The tour is also offered in Polish and English.
Duration 1 – 1.5 hrs
Admission + guided tour: € 200.00 flat, up to 21 people € 10.00 per visitor
group size max. 40 people
»Countess Cosel's Treasure«
[Translate to English:] Wie bei keiner anderen Person der sächsischen Geschichte vermischen sich Dichtung und Wahrheit, Legenden und Wirklichkeit. Wer war diese holsteinische Landadlige, die an der Seite Augusts des Starken zur Reichsgräfin aufstieg, was trieb sie an? Was geschah nach ihrer Verbannung mit all ihren Schätzen? Die Führung versucht auf der Basis neuer Forschungsergebnisse, einen tieferen Einblick in das wahre Leben der Gräfin zu geben. Keiner kann dies informativer, als der profundeste Kenner der Cosel-Geschichte in ganz Sachsen, der Autor des neuen Buches "Lebenslang verbannt. Die Gefangenschaft der Gräfin Cosel", Jens Gaitzsch, Museologe der Burg Stolpen.
| | |
| --- | --- |
| Duration | 1 hour |
| Admission + guided tour: € 200.00 flat, up to 21 people € 10.00 per visitor | |
| Group size max. 40 people | |
»Cosel's chambermaid is chatting away«
The Countess' chambermaids were always around her and with her. Only a few persons had such direct contact and were able to immediately experience the Countess. The odd titillating episode could not be hidden from them. What actually happened behind the scenes? How was it possible that she rose so quickly to become the most powerful women at the side of Augustus the Strong? What was different with her compared to all mistresses preceding her? The dazzlingly and disarmingly beautiful woman, communicative and captivating, had a dark side, too. The chambermaid, pompously dressed up, may reveal some indiscretion.
| | |
| --- | --- |
| Duration | 1 hour |
| Admission + guided tour: € 200.00 flat, up to 21 people € 10.00 per visitor | |
| Group size max. 40 people | |
Contact
Stolpen Castle
Schloßstraße 10 | 01833 Stolpen
Property of State Palaces, Castles and Gardens of Saxony, non profit
+49 (0) 35973 234-10
stolpen@schloesserland-sachsen.de
Local accesibility